Alain
Popularity Rate: 24096
Ranking: 60388
Last Updated: Nov 01, 2022
---
What is the meaning of the name Alain
The name Alain is commonly a unisex name from the "French" origin that means "Handsome, Fair, Bright, Happy.".
Pronunciation of the name Alain
The pronunciation of the name Alain is (AH len), (ah LEHN)
Numerology of the name Alain
Lucky Number: 3
3s have a great sense of humor and always make you laugh when the mood is low. They can see life in a favorable light, which means that they will find something funny about anything that happens around them!
Summary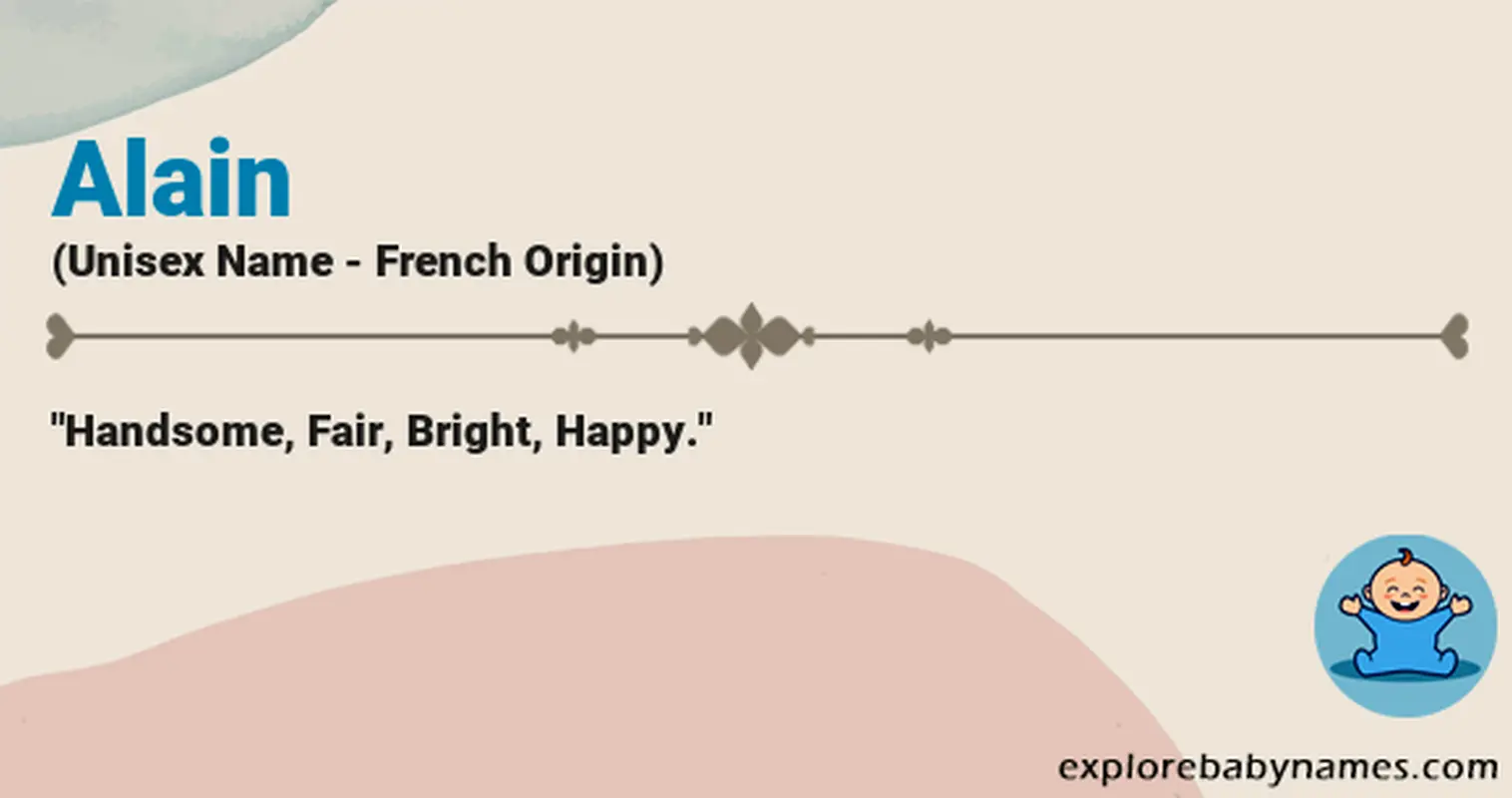 Famous People Named Alain
Alain Barrière (Actor), Alain Bashung (Actor), Alain Bécourt (Actor), Alain Berbérian (Director, Writer), Alain Berliner (Director, Writer, Producer), Alain Bernardin (Director, Actor), Alain Bernheim (Producer, Actor), Alain Blazquez (Actor), Alain Bombard (Actor, Writer, Producer), Alain Bonnot (Director, Writer), Alain Boublil (Writer), Alain Boudet (Director, Writer), Alain Bouvette (Actor, Writer), Alain Bouzigues (Actor, Writer), Alain Cavalier (Director, Writer), Alain Chabat (Writer, Actor, Producer), Alain Chamfort (Actor), Alain Chevallier (Actor), Alain Cohen (Actor), Alain Corneau (Writer, Director), Alain Cuniot (Actor, Writer, Director), Alain De Levita (Producer, Director), Alain Delon (Actor, Producer, Writer), Alain Mayor (Producer, Writer), Alain Renoir (Actor), Alain Robillard (Writer, Director),